Today's reviews are again about some lovely ladies from the Sampler Village Team. :) I can't get enough of these amazing and talented shops in the box!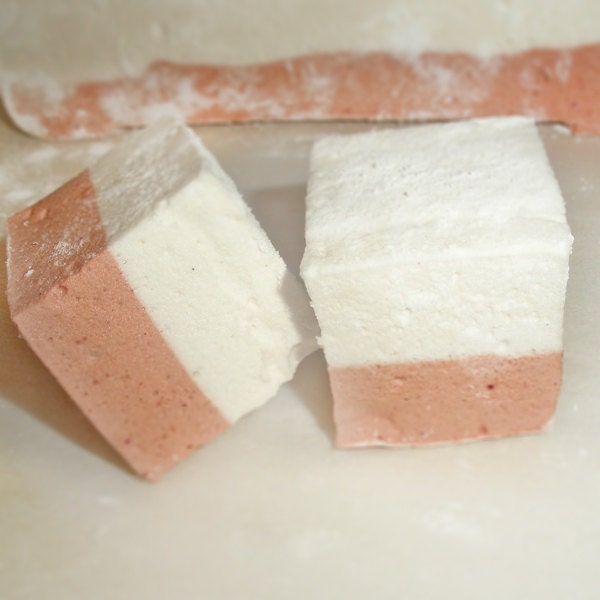 The Realist Mermaid
Facebook
and
Etsy
Item: Vegan Marshmallows in various flavors
My Review: Through a promo/coupon the shop owner was running, I was able to procure a box full of marshmallows for free, I only had to pay shipping. Totally worth it. I cannot tell you how much AWESOMER (yep, just made that up) handmade marshmallows are. SO fluffy, SO creamy, SO flavorful, SO YUMMY. Since they're handmade, they need to be consumed within 10 days, or refrigerated/freezed (ok, made up another word) until you're ready to eat. I just immediately put them into my tupperware to pop in the fridge, no problemo. I got a good variety and I was really surprised at which ones I liked the most: Irish Coffee and Lemon Meringue. I'm not a big coffee or lemon flavored person... but I think that's a big testament to the ingredients. They're all-natural, organic, kosher, gluten free - I don't usually specifically seek out these attributes, but I feel pretty darn good when I eat that way. :) Any way to trick my mind into thinking marshies are healthy, I'm cool with!!! You can clearly tell the ingredients are fresh, and I was so amazed by her creativity with the flavors. (P.S. She's running a sale right now!)
Item: Lip Balm flavored in An Ornery Lil' Custard
My Review: I can't get enough of Farm Hussy and I'm not ashamed to keep plugging this business! I haven't used silkier lip balm ever before! The texture is unlike others, but that's a good thing. Feels so good to use on my lips. And, of course, like always, the scent is so yummy. (After trying my first handmade lip balm about three years ago, I've kissed commercial ones goodbye.)
Item: Banana Coconut lip balm
My Review: OMG, this has got to be my most FAVORITE scent I have ever gotten in a lip balm! I'm totally loving it! Banana is my favorite flavor/scent, and I love a good coconut scent as well. I would never have guessed these smell so good together! It doesn't smell like Pina Colada or something tropical like you would think; which to me is such a refreshing change of pace since that's usually the route these scents are taken. You can smell each note separately and strongly, which I really appreciate, but they blend so well together. This is a beeswax lip balm, which I'm not usually a fan of, but it's actually silky and slides on nicely. I usually find beeswax to be stiff and sticky, but this balm truly isn't.
Item: Snowball shaped soap
My Review: Enclosed in the box, this sample is HUGE. Almost too big to handle, although I could probably cut it in half. But I'm not complaining about a big sample. :) Lather is nice, I really can get some suds going, and my hands don't feel dried out after but soft (drying soap is a pet peeve of mine). However, I can't smell what scent it is, and I can't tell from the packaging, unless it's unscented. I thought the snowball was a cute idea for the winter months. :)
{{Each Friday I do a multitude of short reviews to sum up my experiences with free product I used since the last posting. I am not compensated for my reviews other than the fact that I did not pay for the product. However, this product was earned through Facebook contests, other free contest means, or somehow free, through my own efforts. The shops are not notified of the review until posted.}}